We provide cost saving mud jacking services for the following areas:
Pool Surrounds Repair
Uneven Sidewalks
Tree Roots – Popped Up Sidewalks
Driveway Leveling
Driveway Crack Repair
Foundation Repair
Slab Foundations
Patio Raising
Raising Steps
Garage Floor Leveling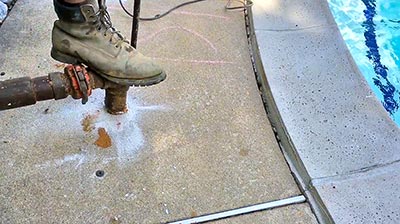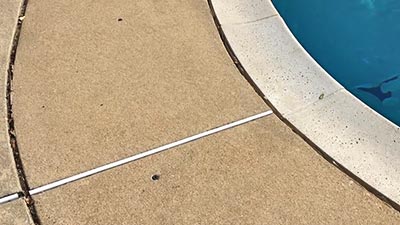 Residential pools are a large portion of our mud jacking business. Most pools are built quickly so the customer can start using them as soon as possible.
Because of this, sometimes at the expense of a quality installation. If the soil is not properly compacted, the concrete can settle.
This is not to say that every pool with sinking concrete was improperly installed.
Oftentimes, soil is brought in to build up an area of the property to get the required depth for pool installation. It too has the possibility of settling, or even washing away.
When this happens, we can most often correct the problem with less expense, and much less (if any) disruption, than replacing any of the pads.
As a matter of fact, it is important with some types of in-ground pools (especially fiberglass) that the concrete remain in place, as it is a critical component of the pool itself. Check with the manufacture or installer.
With mud jacking, homeowners can reduce the risk of "trip and fall". Most homeowners don't realize that they are responsible for the sideway at the edge of their property, not the township. If tree roots have pushed up the pads, or a new utility installation has caused the pads to sink, it is the homeowner's responsibility to repair them. Again, we can correct most of these situations.
Mud jacking will improve the appearance of their home. We have raised steps leading to the front door that have sunken over 6" from where they should have been. Not only does this look bad, but that made the top step over 13" high.
At this job, the homeowner was also tickled pink because when we raised the existing porch, rather than having it replaced, he did not have to involve the township for permits.
Contact The Mud Jacking Guy Today!